Our memories...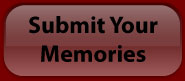 I have many memories of my father. Some are happy, some sad, but they're all memories I'll treasure forever. If you have a memory you'd like to share, please click here to share it on this page. Whether it's a story, one line anecdote or just a random thought, I'd really appreciate hearing it.
---
It's very easy to allow my Dad's health conditions to overwhelm your memory of him. After all, he had his first heart attack at age 44. He suffered with diabetes and a heart condition for almost 3 decades and more chronic conditions were added to the mix throughout the years. There are a lot of people who would have let their health dictate how they lived their life. Instead, my Dad chose to live life the way he wanted. Sure, there were restrictions to his diet and activities, but he didn't let it hold him back. We went on family vacations. He helped with school projects. He went to school functions. He did everything his health allowed. He even worked well beyond the time many people would have given up and retired. When he did retire, he still didn't let his health stop him. He continued traveling with my Mom. A month long tour of the country and trips to visit family in Georgia and Indiana were a few of those happy times for him.
I will never remember my father as someone whose health conditions defined him. Life with my Dad taught us all that being flexible and doing what you can, when you can, is the right way to live. If you don't feel good today, you don't cancel plans; you just postpone them until tomorrow. And more times than not, you'll find tomorrow is a sunnier day anyway.
What I believe kept my father going strong for so many years was the fact he did things his own way. He didn't worry about what others thought and went out of his way to impress no one. Yet everyone who met him had incredible respect and love for him. He taught us all that you can make an impact just by being yourself. He freely expressed his views and loved to discuss and debate those views in the most passionate and animated manner you could imagine.
Through everything that happened in life, he never lost his sense of humor. His smile and laugh were infectious. He touched not only our lives, but those of everyone he met.
You also can't talk about my Dad without remembering that he had a deep love for all living things whether they are plant or animal. The birds in our yard are still the best fed and bathed on the block and the neighborhood wildlife always knew there'd be something for them in our yard. Anytime there were animals outside, my father was sure to be watching them and probably teaching us something fascinating about them that we'd never take the time to learn otherwise.
Most importantly, he truly loved his family. He wanted nothing more than for us to be happy. I've never seen love as strong as that which my parents share. It's a love that will not end with his death.
Dad, you said that you wanted to be buried with a headstone so there would be proof that you existed. If you were here today to look around this room, you'd see more proof that you existed than you could ever imagine.
- Michael Gatti
A downloadable PDF version of the eulogy is available here.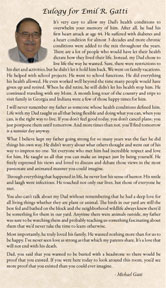 ---
Emil's Obituary
Gatti Emil R.
On January 9, 2008 of Gloucester Twp. Age 71. Beloved husband of Nancy J. (Nee Stroup). Loving father of Michael E. and Jennifer N. Gatti. Son-in-law of George J. Stroup. Nephew of Frank Toretta. Relatives and friends are invited to attend the viewing Friday evening from 6 to 9pm and Saturday morning from 8:30 to 9:30am at GARDNER FUNERAL HOME, RUNNEMEDE. Funeral Mass Saturday morning 10:30am Our Lady of Grace RC Church, Somerdale. Interment is private at the request of the family. In lieu of flowers, the family requests that donations be made in Emil's memory to the National Kidney Foundation, 30 East 33rd St., Suite 1100, New York, NY 10016, the American Diabetes Assoc., 150 Monument Road, Suite 100, Bala Cynwyd, PA 19004 or to the Animal Welfare Assoc., 509 Centennial Blvd., Voorhees, NJ 08043.
Click here for a downloadable PDF version.
---
When I think of Emil, my mind pictures his laughter which was boisterous and his strong viewpoints on issues of dinner table discussions/debates. I believe in over 25 years of knowing him we never had a harsh word with each other even though we debated various issues and sometimes never agreed. My last thought of him will be when I said goodbye and Happy New Year to him in December of 2007 and he was so thin and ill. I probably knew then it was the last time I would see him alive, but he was gracious to us all as we said our farewells. I hope he's cooking with his parents in Heaven now as Grace and Peace surrounds him!!!!!!!!!
- George Stroup, brother-in-law
I will always remember Emil with much love and admiration.  He was my boss, but was always someone I could talk to and I thoroughly enjoyed the years we worked together.  He was funny, stern, tough, easy, intense and moderate all rolled into a great guy.  I learned alot from him and will never forget all the good times.  The pictures on this website were great and a wonderful tribute to a special person.
- Andrea Stone, former employee
It has been many years since I left the Social Security office in Mt. Holly as the Adm. Aide to Emil. We had so many good years together. I couldn't ask for a better "boss" or friend. I have always been sorry we did not stay in touch but life has a funny way of taking you in different directions. With the passing of each day the love still remains in my heart for Emil, Nancy and family.
- June Harmon, former secretary
I am an aspiring genealogist and it resulted in my re-acquaintance with Nancy, my Dad's first cousin and her wonderful husband Emil. What a delight it was to hear from Nancy when she wrote back to my query about our family history in April of 1999. Nancy was wonderful, sending me loads of information about our family as well as priceless pictures of our ancestors. She was the best! I finally met Emil and saw Nancy again in person when I lived briefly in Delaware in 1999-2000. I found Emil to be warm and wonderful. I also really loved seeing how in love Nancy and Emil were after all those years of marriage. They were like kids! Emil and Nancy visited us in Colorado a couple of years later. Was great to see them and hear stories of when they were young and first together.
My husband Greg and I were very sorry to hear about his passing. Emil will be missed and remembered fondly always.
Our hearts go out to Nancy, Michael and Jennifer and the entire family. I lost my dad too and understand the pain, which never really goes away. After 16 years of missing my dad, I realize all we can do is be grateful for having a wonderful father - some never experience that. And Michael is doing this, as evidenced by this beautiful web site he built. Michael, you are inspiring me to finally do something like this for my dad.
- Suzie Stoutenberg, Nancy's cousin
I think that all of us who attended White Township Elementary School in the 1940s have a special relationship. Of course, we attended Belvidere High School together and made new friends but the White Township kids still had that connection. The first picture and the eighth grade picture of Emil on your site bring back special memories of him.
I lost touch with many of my classmates when I went to college. After Bill and I were married we moved to Pennsylvania, West Virginia, and Ohio. In 2001 we moved to within 30 miles of Emil and Nancy and were able to reconnect. It was wonderful getting to know them as a couple and traveling with them to the class luncheons.
I will always remember Emil as being a very friendly person and always had something cheery to say to everyone. He is missed by all of us but he leaves a smile on our faces when we think of him.
- Jeanne Neidig Burgie, elementary & high school friend
One thing comes to mind when I remember Emil. Harry and I had tickets to the River Sharks game one summer night. I asked Nancy if she would like to go with us and she replied that Emil would enjoy it. I clearly remember that when we arrived, Emil was not feeling well enough for the walk from the car to the entrance. It was a long walk but he managed to get to the entrance with patience and determination. He never complained. He just did it. With Nancy's help, he got to the elevator for handicapped guests and then walked to our seats. He enjoyed the game and the company, ate a hot dog, and drank a soda. I'd always admired Emil, respected his attitude, and enjoyed his sense of humor but, mostly, I highly regarded the special relationship he and Nancy had for thirty some years. They were lucky to have each other. By the way, they were fortunate to have two wonderful children as well.
- Debby Wolf, friend
I especially remember one incident about Emil. As I'm sure you know, he had a temper. One time he was going to fight with another guy (I don't remember who). We were all standing around watching. Some of us said to the two of them, "Take off your rings", and they did. I remembered this because of the contrast to the fights I saw in California, both as a student and teacher, where kids might even use a roll of coins in their fists. To me it shows how the kids in Belvidere cared about fairness, a rare quality nowadays.
- John Laue, high school friend
I've often wondered where life led some of the men that I knew while in the military. Finding more that an occasional obituary is truly unusual and finding this website in tribute to Gatti speaks volumes about those he left behind and is an enviable testament to the love that was his in this life.
I am the person who took the picture of Gatti and our buddies that you've put on the photos page.  To give names to the faces: standing to Gatti's right is William Hensley, to his immediate left is Charles Bailey and far left is Albert Broscius.  Kneeling, left to right, is William Franklin and Edward Jolley. The picture was taken in the spring of 1955 on the island of Vieques, Puerto Rico, where we went on annual maneuvers.
Gatti had enlisted for four years and I for two. About two weeks before my release, Gatti and I were involved in a little confrontation over circumstances that Gatti perceived as injustice. Gatti wasn't happy with my proposed solution to the problem and decided that giving me a good push was a better idea. When I went for Gatti, others kept us apart, which, over the ensuing years, I've come to regard as a good thing because Gatti, outweighing me by about seventy five solid pounds, would probably have unscrewed my head and used it to clean the windshield of his equally solid Mercury.
Those of us who knew Gatti will navigate this site with understandably mixed emotions, happy for the joys and love that was his and saddened by his misfortunes and the gradual decline that awaits us all.
When we meet again, I hope he doesn't greet me with a push. And if you do, Gatti, I'm gonna come atcha all over again.
- Dudley J. Landry, Jr., O. D., USMC
Summer of 1949: I turned 13 in August while we were living in Manunka Chunk Colony. My friends gave me a surprise birthday party. Emil provided the pizza: it was the first time I tasted pizza! We all knew the tragic story of his older brother. He was a sweet boy - he told me he wanted to be a doctor. He was part of a very special summer.
- Barbara Walsh Murphy, friend
I can't believe Emil will soon be gone for five years. I still think about him and miss him even though I was only privileged to meet him and get to know him in the last few years of his life. Emil was my father's nephew but I never knew any of my father's family except another first cousin, Nelson, his wife Diana, and then Emil and Nancy. I had an empty place in my life never having any contact with my father's family but that is just the way it was. My parents lived in California where I was born and raised and my fathers family lived on the East Coast. Not much was said about why we didn't interact, but as a child I figured it was just the distance.
When Emil and Nancy came to visit me and my family in Evansville it was such a wonderful thing to me. When I met Emil I felt an immediate kinship. I loved him instantly just as I had Nelson. It didn't take long to find out that we had a lot in common; our love of all animals and living things, our love of words and debating, and our love of food! Thanks to Nancy I was introduced properly to cannoli. Emil enjoyed our youngest son, Danny, who was an 8 year old budding fisherman at the time. Emil took the time to fish with Danny . I have a picture of them on the dock of the lake together. This is something Danny will never forget and neither will I. We had a great visit that first time. They came to visit us again and we had another fun time together. I remember as they pulled out of the driveway, Emil was crying. I think he knew he would not see us again in this life. It was so hard to let him go, even though I knew him such a short time. I can only imagine how hard it was for those who knew and loved him for so long. He brought me a special joy.
I never had a brother, but I used to beg my parents for one. If I could have had a brother, I would have wanted him to be like Emil. The first time I saw him and hugged him he felt like a brother to me. I think of him when I feed my birds and talk to them. I hope I can spend more time with him when I get to heaven. RIP dear cousin of mine.r.
- Kathy Gatti Toon, first cousin